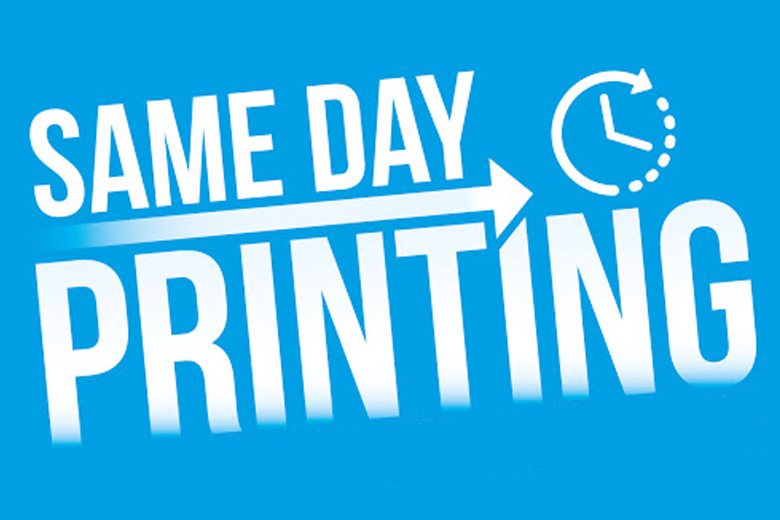 Same Day Printing Services
Why MRCmedia is best for Instant & Same Day printing service in Birmingham and surrounding areas –  Our high quality digital printer can print quick high quality graphics which allow us to cope up with any urgent job. That means if you need some business cards to print today for your urgent meeting or exhibition show and last minute you realised you don't have any business cards in your stock, you can use our instant print service which you can place the order from home and come and collect it from our print shop on rout to that meeting. Our same day delivery service can be arranged for a very affordable price and can be ready within the hour. Our prices are excellent for the quick turnaround service we offer.
We keep our price as low as possible and aim to be the cheapest in the market so that customers can use our service again and again with confidence. Why wait for your order online and risk the job being printed to a high standard, come and see MRCmedia for your local friendly cheap service and get your products quickly.
Same Day Printing in Birmingham
Do you require a quick same day printing in Birmingham. Then you are in the right place. Our standard turn around time is 3-5 working days, which give us plenty time to print either digital litho at the best possible competitive price.
Our best selling products are same day business cards printing in Birmingham, Same day flyers printing in Birmingham, same day banner printing in Birmingham, same day full colour letterheads printing, same day menu printing, next day funeral booklets or brochures printing in Birmingham and more.
Why use MRCmedia?
We are a traditional printers and web hosting company in Birmingham West Midlands, centrally based in the UK who still believe that customer needs a high quality low cost product delivered on time. We know there are customers that like to see the products before they order and we can show samples to customers so they know what they are getting not like other online printers who don't allow customer to visit their Print shop for saving the production cost.
We prefer our local Birmingham and West Midalnds based customers to come and get a proof or sample before they get their final products, so customers can decide which paper thickness / (GSM), colour or paper quality they are looking for. Also customers are comfortable to describe what kind of folding or custom cutting they are looking for so it's easy to come and physically explain what they are looking for.
Which kind of local business we offer our print service:
Every business need promotional printing for advertising their business to get more popular in their local community. And we help a lot of UK public sector, private sector and third sector organisations and charities to cut the cost on their printing and get high quality adverting materials. Businesses like beauty salons require posters and flyers for shop front, local cleaning companies need bulk black and white flyers printing for door to door leaflets distribution. Some of the Birmingham based local business who use our services are Accountants, Advertising Agencies, Automotive Industry, Baby Shops, Bars, Beauty Salons, Block Pavers, Blind Manufacturers, Cafe's and Coffee Shops, Car Body Repairers, Car Hire Companies, Car Washes, Caravan Parks, Carpet Shops, Chemists, Cleaning Companies, Clubs, Computer Companies, Decorators, Dentists, DIY Shops, DJ's, Driving Schools, Electricians, Employment Agencies, Engineers, Environmental Consultants, Estate Agents, Farm Shops, Financial Advisers, Florists, Football Clubs, Function Rooms, Funeral Directors, Garages, Garden Centres, Guest Houses, Hairdressers, Health clubs, House Builders, Insurance Companies, IT Consultants, Jewellers, Kitchen Makers, Letting Agents, Masseuses, Mechanics, Mortgage Brokers, Nail Technicians, Nursery Schools Off Licences, Opticians, Offices, Painters, Pet Shops, Printers, Pubs, Recruitment Consultants, Replacement Window Companies, Roofers, Restaurants, Schools and Colleges, Sign Makers, solicitors, Sports Clubs, Storage Companies, Take Aways, Theatres, Tourist Attractions, Travel Agents, Taxis & Minicab, Used Car Lots, Valeters, Weddings, Wine Shops and more.